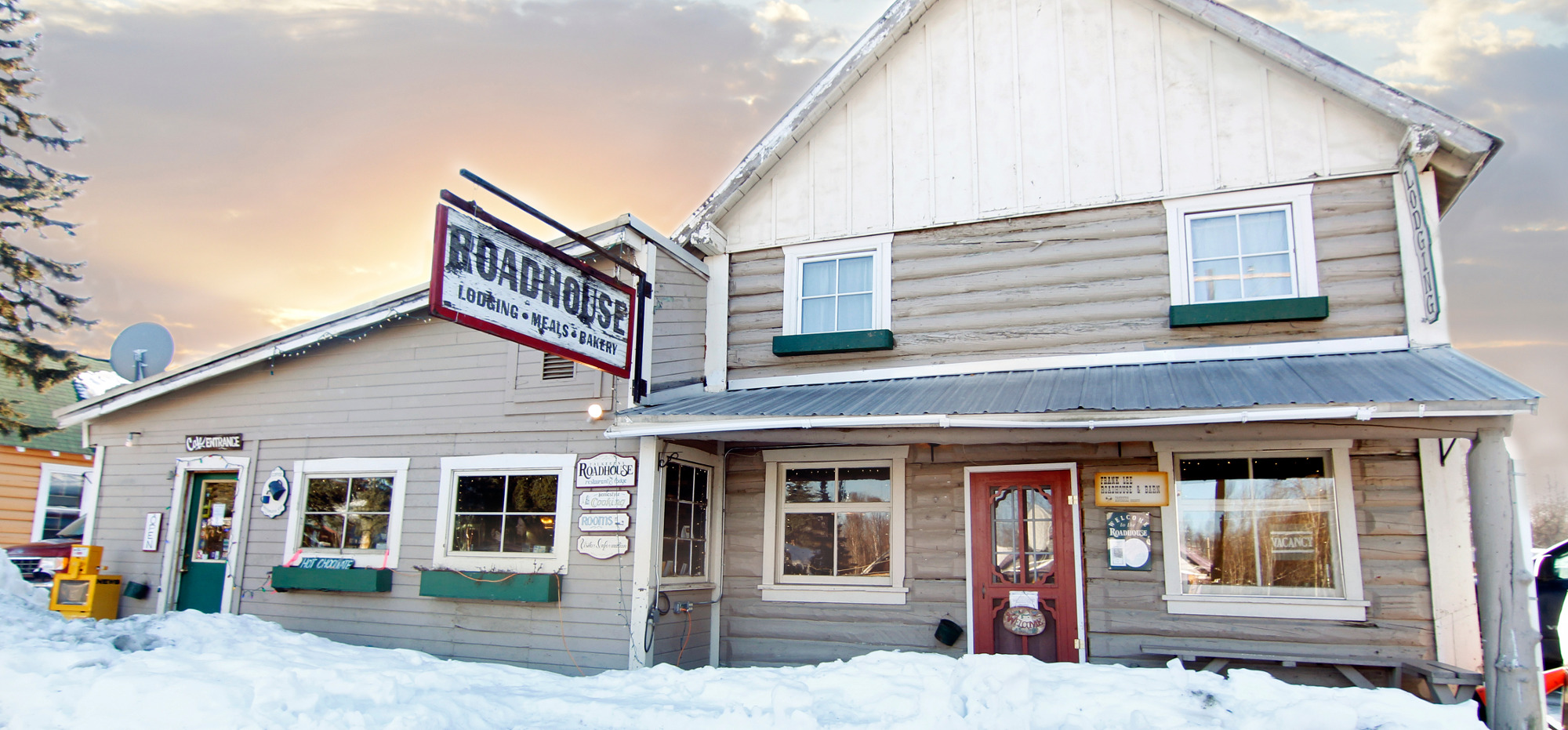 Welcome to the Roadhouse!  We are located on Main Street in the heart of 'Beautiful Downtown Talkeetna, Alaska."
---
Yes, our pet friendly overnight lodging is open!
---
Our original two story log building and barn were built around 1917 to function as a freight hauling supply station. Yes… the building already made if through the Spanish Flu Pandemic!  In 1944 the rooms building and kitchen were added making the business a full service roadhouse with simple rooms and hearty meals served family-style at big tables.
Up until the Pandemic we were most famous for breakfast and all the fresh and simple goodies that come out of our bakery:  cinnamon rolls, pies, cookies, daily breads. Our tables are still big and seating was 'family-style.'  As you squeezed in to an empty chair at the table you may have met other travelers or folks that live here – sharing local as well as stories of the road, in true roadhouse fashion – while fueling up on sourdough hotcakes, scrambled eggs, thick-sliced toast, reindeer sausage, biscuits and bottomless strong coffee.
These days our service is focused on overnight accommodations.  Guests can add a Roadhouse Sourdough Hotcake & Scrambled Egg breakfast, use the coin-op laundry and relax knowing they no longer share a bathroom (they are all now assigned); the rooms all have a 24 hour vacancy buffer on either side of a guest stay.  In many ways the pandemic has allowed us to slip back into a quieter and more peaceful time.  Read more here about visiting the Roadhouse and Talkeetna during the Pandemic.
Be well and we truly look forward to seeing all of you back at the big tables again – elbow to elbow – passing the applebutter, chatting and laughing loudly. Until then, be our guest so you may have your own story to tell!
Current Pandemic Hours
Rooms & Cabins: nightly
Public Coin-op Laundry: closed during pandemic
Public Showers & Restrooms: closed during pandemic
Restaurant: breakfast option available for overnight guests only.
Bakery: Walk-up Window closed for the winter...but will be back Summer 2022!
Lodging Gift Certificates available for purchase - give the gift of time and place!
Ginger Molasses Cookies ship every Tuesday - desperate times call for yummy cookies!