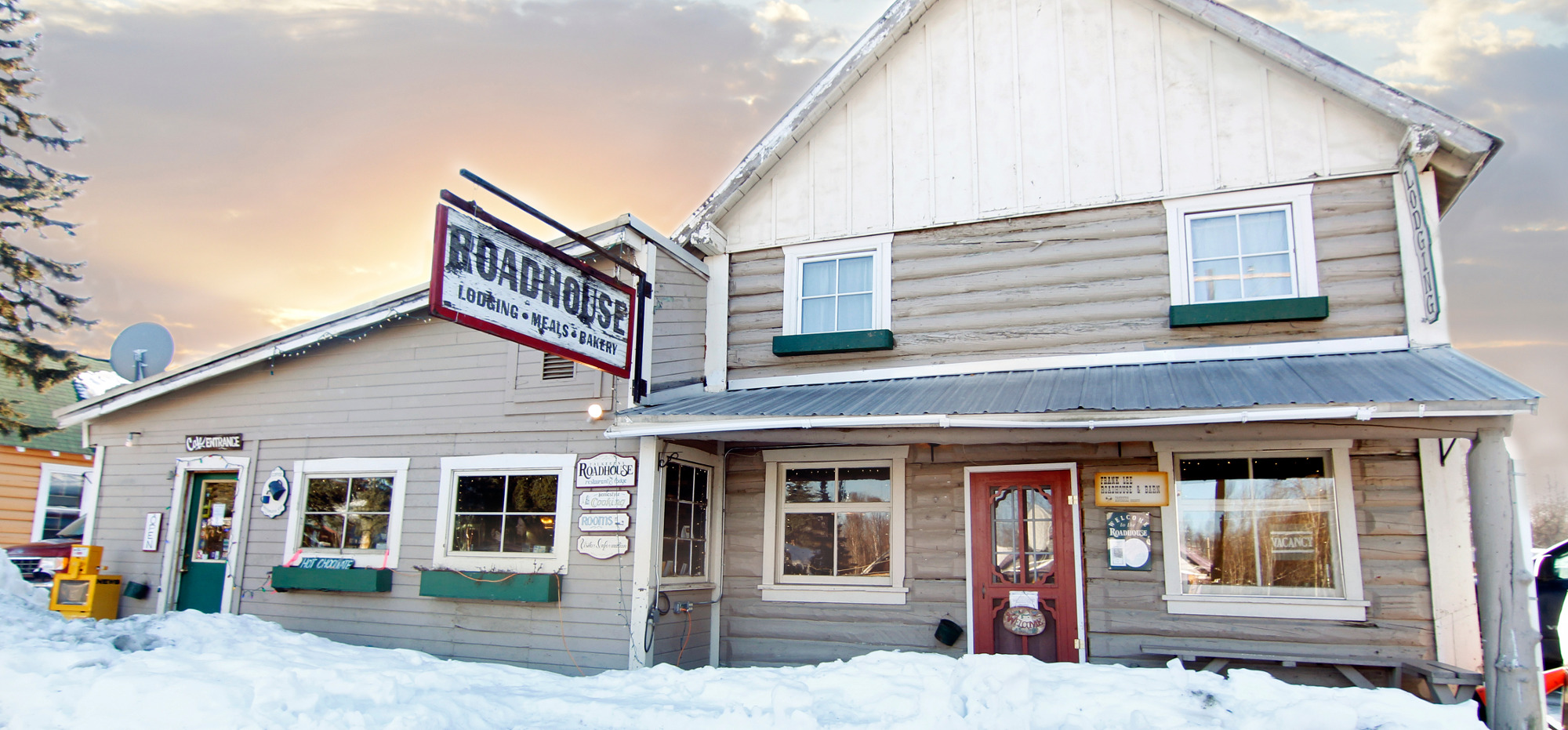 Welcome to the Roadhouse!  We are located on Main Street in the heart of 'Beautiful Downtown Talkeetna, Alaska."
---
COVID-19 Considerations – Yes,  overnight lodging will open!
We know that many of you look forward to sitting shoulder-to-shoulder with other travelers, enjoying a hearty Roadhouse breakfast, sharing stories with folks you meet.  These are not the times.  We wish it weren't so.  During the pandemic we have decided to focus on our overnight guests, (providing  breakfast if they wish), and keeping the dining room, showers, laundry and restrooms closed to the general public.  By doing this limited service we will be able to better ensure a safe environment for everyone: overnight guests, staff, community.  
We ask that while in our tiny, end-of-the-road community that you follow all the guidelines outlined by the CDC and within the State of Alaska Health Mandates (they change often and quickly).  Maintaining a 6 foot distance and wearing a face covering while interacting with others outside of your household is highly and respectfully encouraged; your actions are critical in our efforts to keep the virus out of our community.
Many businesses are open, although some are not.    A complete and current list can be found on the Talkeetna Chamber of Commerce's website. 
The rivers are running, the birds singing and Talkeetna is as magical as ever.  Yes, we safely welcome you!
---
Our original two story log building and barn were built around 1917 to function as a freight hauling supply station. In 1944 the rooms building and kitchen were added making the business a full service roadhouse with simple rooms and hearty meals served family-style at big tables.
Today we are most famous for breakfast and all the fresh and simple goodies that come out of our bakery:  cinnamon rolls, pies, cookies, daily breads. Our tables are still big and seating is 'family-style.'  You may meet other travelers or folks that live here – sharing local as well as stories of the road, in true roadhouse fashion – while fueling up on sourdough hotcakes, scrambled eggs, thick-sliced toast, reindeer sausage, biscuits and bottomless strong coffee.  No one leaves hungry!
Our overnight accommodations range from hostel-style co-ed Bunks to private rooms and historic cabins. Our year round full service roadhouse also operates public laundry and showers and can assist with tour planning. We also maintain a comprehensive calendar listing of all events happening in Talkeetna.
Current Pandemic Hours
Rooms & Cabins: nightly
Public Coin-op Laundry: closed during pandemic
Public Showers & Restrooms: closed during pandemic
Restaurant & Bakery: closed for dine-in service during pandemic (breakfast available to room guests)
Ginger Molasses Cookie Subscriptions still happening with shipments out every Tuesday.  Click above on the Bakery tab to get to the form.  Thanks!